MATTHEW&nbsp&nbsp JEPHCOTT
BIRTH & BAPTISM

Matthew's parents were Matthew JEPHCOTT and Elizabeth ASH.

Matthew was born in 1786 and, in the same year, baptised in Willoughby, Warwickshire on 30 June.
MARRIAGE & FAMILY

Matthew married Elizabeth HESOM on 10 February 1812 in Willoughby, Warwickshire.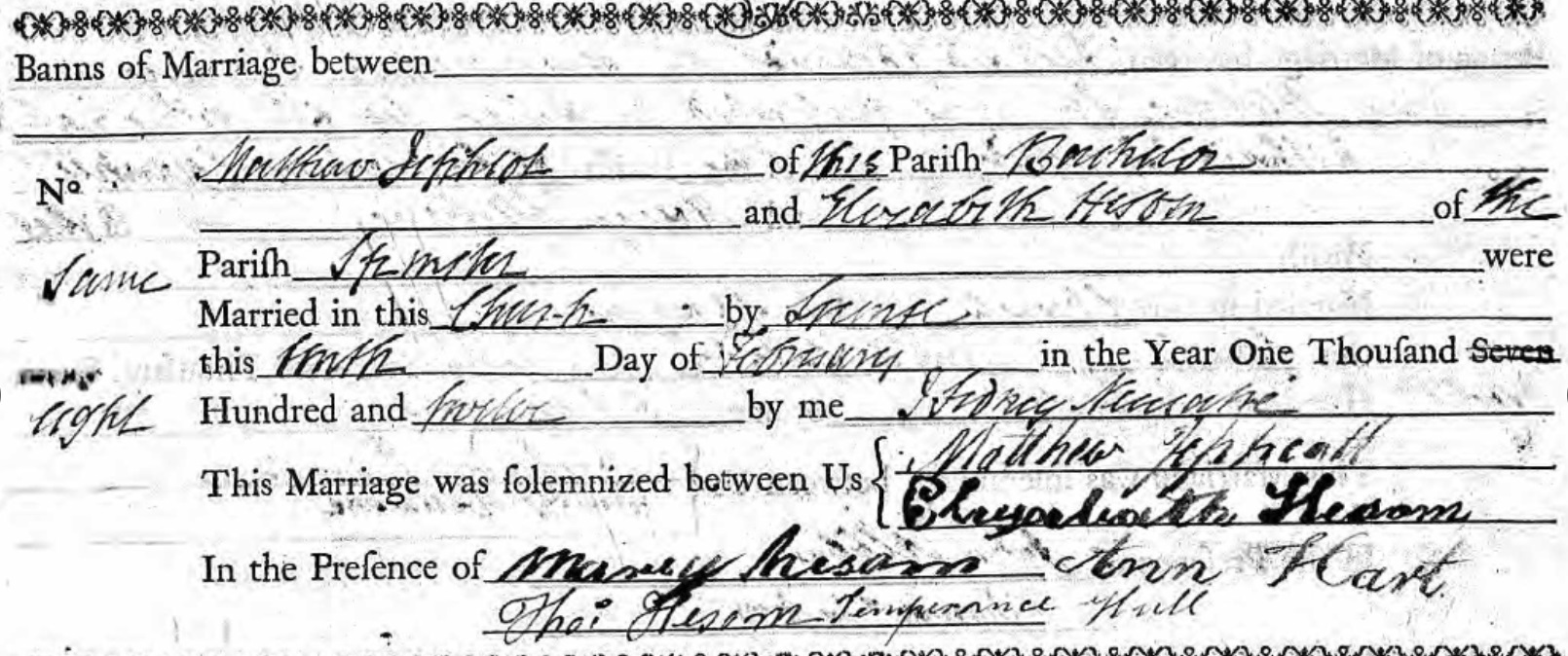 Their marriage was witnessed by Mary Hesom, Ann Hart and Thomas Hesom. (Strangely, written in a different hand after his name is "Temperance Hall").

Their daughter Sarah Ann was born in 1816 and baptised in Willoughby, Warwickshire on 26 December 1816.
They had nine other children:

Jane
1812 -
Married George MALIN
27 June 1831
Plumstead

Children:
1835 Martha
1837 Ann
1839 George
Baptism
21 December 1812
Thomas
1814 -
Married Eliza SEAMARK
19 Nov 1838
Brixworth

Children:
1842 Mary Jane

1851 Journeyman Bricklayer
Islington
Baptism
2 December 1814
Elizabeth
1818 - 59
Married Joseph ALLEN
15 May 1838
Holy Trinity, Coventry
Rail Guard

Children:
1842 Thomas
1847 Elizabeth
Baptism
9 October 1818
Mary
1820 - 87
Married Simon CHICK
12 April 1858
Aston
Coach Maker
Baptism
18 July 1820
Harriet
1823 - 75
Married Joseph PRICKARD
22 March 1840
Coventry
Butcher
Baptism
22 May 1823
Catherine
1825 -
Married William Henry HOBBINS
c1844
Coventry
Baker
Both minors, in presence of Sarah Ann Oliver
Baptism
8 May 1825
Caroline
1827 -
Living at home in 1841 with William & John
Baptism
1 July 1827
John
1829 -
Living at home in 1851 with William, and niece Jane Oliver
William
1833 -
Married Elizabeth ??

Children:
1871 Frederick
1875 Louise
1878 Carrie

Jeweller, Watchmaker & Pawnbroker,
153 Bromsgrove Street, Birmingham

Mother was living with him until he married in 1871, she then moved to Great Barr Street.

Joined a Freemasons Lodge Feb 1893 & resigned Sept 1894
WORKING LIFE


Willoughby Baptism Parish Registers
1812
Farmer
1814
Farmer
1816
Farmer
1818
Gentleman
1820
Grazier
1823
Farmer
1827
Farmer
Jury Lists

1814, 1815, 1817, 1820,
1822, 1823, 1825, 1831

Copyhold Farmer
Marriage of children
1838 Thomas
Victualler
1838 Elizabeth
Publican
c1844 Catherine
Victualler
1858 Mary
Farmer
The London Gazette for the Year 1837 Volume 1, Part 1
The Court for relief of Insolvent Debtors

The Matters of the PETITIONS and SCHEDULES of the PRISONERS hereinafter named (the same having been filed in the Court) are appointed to be heard as follows:

At the Court-House, at Warwick, in the County of Warwick, on the 13th day of April 1837, at Ten o'Clock in the Forenoon.

Matthew JEPHCOTT, heretofore of Willoughby, Warwickshire, Farmer, Grazier, and Retail Brewer, afterwards of same place, Retail Brewer, afterwards of the same place Milkman and Farmer's Labourer, wife same time taking in washing and sewing, and late of Lower-Street, Hillmorton, Warwickshire, Victualler.
1841 CENSUS

By the time of the 1841 Census, Matthew and Elizabeth were living in "New Buildings", in the parish of Holy Trinity, Coventry with their children Caroline, John and William.

Matthew is described as a publican.

"New Buildings" was a short road just off Trinity Street and it is likely that the pub, possibly "The Cross Keys", was there, although it is not identified as such on the 1841 Census.
1851 CENSUS

By 1851 Elizabeth was living in Warwick Lane, Coventry at the Bell Inn but Matthew had died in 1846.

William (Engine Driver) and John (Smith), her sons, were living with Elizabeth together with Jane OLIVER her granddaughter.

Elizabeth is now a Licensed Victualer at the Bell Inn, opposite to Ford's Hospital.
DEATH & BURIAL
Matthew died at home in Derby Road, Holy Trinity, Coventry on 29 August 1846, aged 60 years, and was buried on 1 September at Holy Trinity, Coventry. Cause of death is reported to be "Fungus Haematodes", a form of cancer.
REFERENCES
UK Censuses (Ancestry .co.uk)
Warwickshire, England Burials 1813-1910 (Ancestry .co.uk)
Warwickshire England Baptisms 1813-1910 (Ancestry .co.uk)
England, Births & Christenings 1538-1975 (Ancestry .co.uk)
IGI www.familyseach.org
England Select Marriages 1538-1973 (Ancestry .co.uk)
London Gazette (1837 Volume 1, Part 1)