Edwin Foden &nbsp SQUIRES
Edwin was the eldest son of James & Charlotte Foden SQUIRES, having two younger brothers and, very briefly, a younger sister.

Although Edwin broke the family link with the Greatheed family he still became a much respected member of the local community through his work, military, and sporting interests.

Clearly Edwin was well educated and instead of manual outdoor work he turned to the more academic life, working in bookshops and banks, benefitting from the wealth created by the hard work and efforts of his father and grandfather.
BIRTH &nbsp & &nbsp BAPTISM

Edwin, was born at Sydney Terrace, Milverton on 6 October 1841 and was baptised on 8 November 1841, at St James, Old Milverton. He is our direct ancestor.
MARRIAGE

Edwin married first Elizabeth BURTON, from nearby Emscote, at her local church of All Saints, on 11 October 1866. Photograph

Transcription
Edwin and Elizabeth had one son:
1867 &nbsp&nbspCharles Dunlop
Sadly, Elizabeth died in 1874, aged only 28. The following year Edwin married his second wife, the widow Emma Agnes PIPE (nee BALDOCK).

Emma, from Marylebone, London, married Edwin at Whitefield's Memorial Church, Camden on 3 November 1875.

Transcription
Edwin had no further children of his own, but became step-father to Emma's two children Walter and (Sarah) Alice.
WORKING LIFE


Banker's Clerk living with parents at Rock House, Milverton
1861
age 19
Banker's Clerk on marriage to Elizabeth, living in Milverton
1866
age 25
Manager & Clerk living at 4 Belle View Terrace, Milverton with Elizabeth and son Charles
1871
age 29
Outfitters manager living with second wife Emma at 20 George Street,Marylebone, London
1875
age 34
Bank Agent, book seller and stationer living in High Street, Southam with Emma, Walter and Alice
1881
age 39
Banker's Clerk living at 46 Rugby Road, Milverton, with Emma & Alice
1891
age 49
Bank Manager living at 76 High Street, Southam with Emma & Alice
1901
age 59
Bank Manager for Lloyd's Bank in High Street, Southam
1904
age 62
Retired
1907
age 65
On Parish Council
1908/10
age 66/8
Member of the Southam Parish Council
1908
age 67
RETIREMENT

Edwin retired as a Bank Manager in 1907, aged 65.

In 1911 was living in Myneholme, Southam with Emma and Sarah.

In 1912 he is recorded In Kelly's as living at Appendix Street (now Pendicke Street), Southam.
MEMBER OF THE COMMUNITY

Edwin's commitment to the local community and the due regard in which he was held is best summed up by his Obituary in the local press
"During his long service at the bank he acquired many friends, and it would be difficult to mention any institution for the good of the town with which he was not in some way connected, dating back from the early days of the Fire Brigade of which he was popularly known as the "Father".

He was one of the first members of the Court Craven Foresters and for some years previous to his death had acted as permanent secretary to the Loyal Thorpe Lodge (Oddfellows), and was also one of the Directors of the Building Society.

He also took a great interest in the Cricket Club, of which for some time he was secretary.

He was one of the originators of the Warwick Boat Club, and possessed many trophies and medals for rowing as well as shooting, for he was an ardent Volunteer. He received his long service medal in 1895, and at the time of his death belonged to the National Reserve."
Edwin was a member of Southam Parish Council, and also Hon Secretary and Quartermaster Sergeant for the Tenth Warwickshire Rifles




Studio portrait of Edwin Squires dated between 1869-1874.
The woman is, we believe,
Elizabeth (nee Burton),
Edwin's first wife.

Elizabeth (nee Burton)
Wife of
Edwin Foden Squires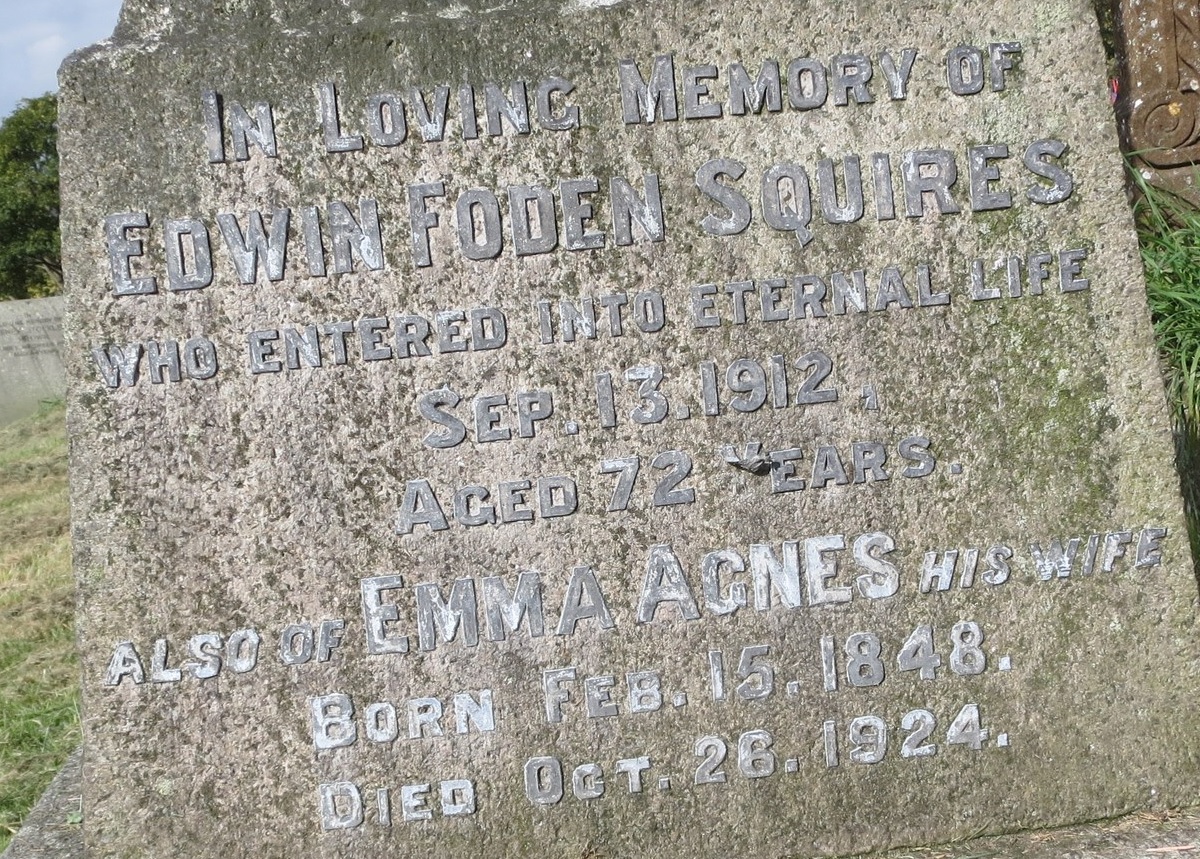 Edwin Foden & Emma Agnes Squires
Southam Parish Church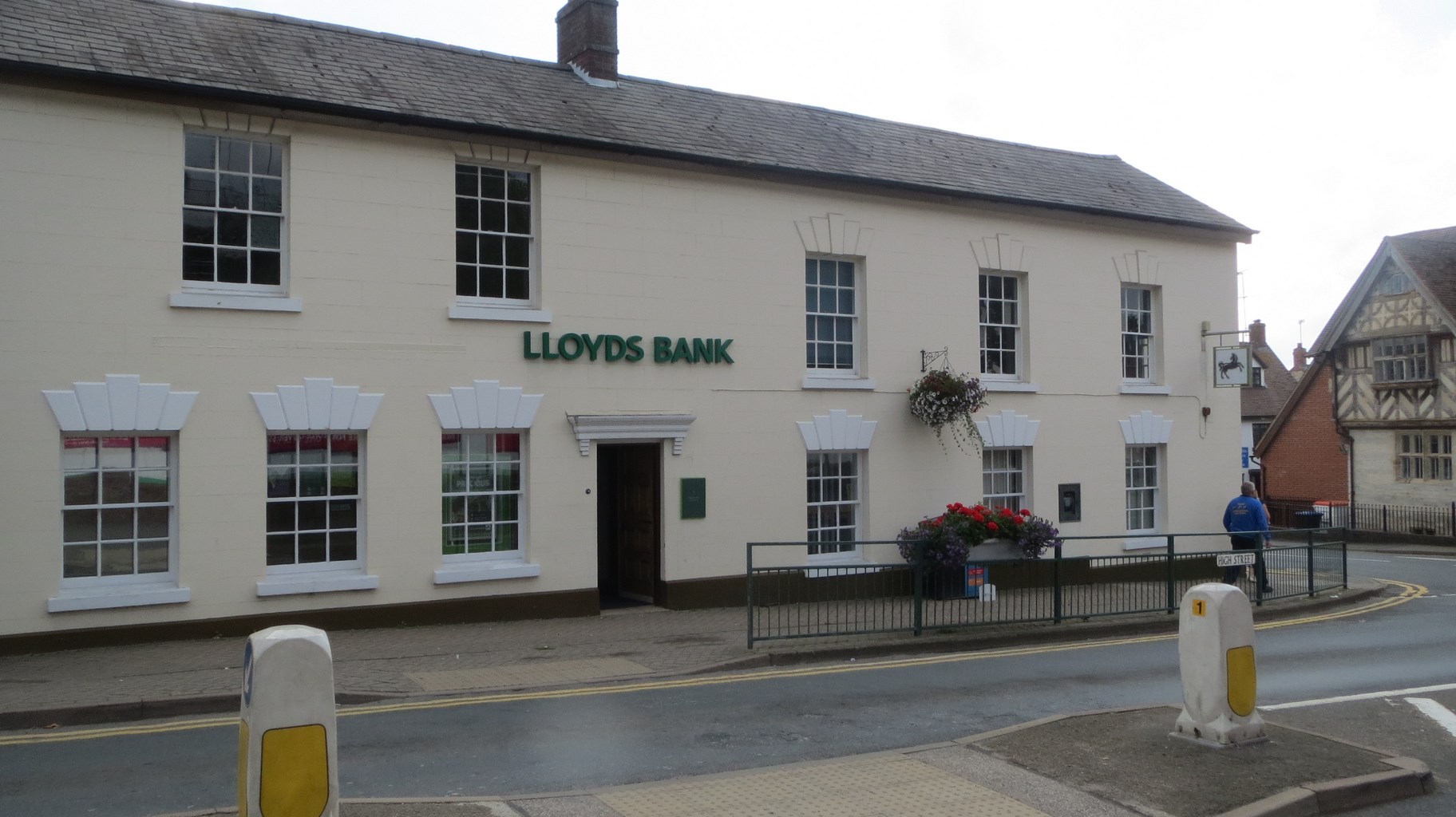 Lloyds Bank, Southam
Edwin Foden Squires, Manager 1904
NEWSPAPER REPORTS

Articles in the Leamington Spa Courier:
The Warwick Boat Club, Tewkesbury Regatta - 19 July 1862
Rifle Shooting 10th W.R.V. - 29 Jul 1865
Warwick Boat Club Races - 5 May 1866
Marriage Announcement - 20 Oct 1866
The Leamington Boat Club - 4 May 1867
Leamington Cricket Club - 25 March 1871
Tenth W.R.V. - 13 Feb 1875
Tenth W.R.V. - 29 May 1875
Leamington and Warwick Excelsior Rowing Club - 30 Oct 1875
Public Establishments, Tenth Warwickshire Rifles - 15 Jan 1878
Agents for the Courier - 25 Jan 1879
Obituary - 20 Sep 1912
Details to be added later
DEATH

Edwin died on 13 September 1912 in Southam aged 71.

The lengthy obituary in the Leamington Spa Courier, above, described him as "very highly respected in Southam and neighbourhood, where the news of his death was received with general regret".

His funeral on the 17 September "was most impressive". The coffin which was preceded by members of the National Reserve, under the command of Major Glover and Sergeant Coles, was carried from the house to the church by six members of the old Fire Brigade, afterwards by six of the Oddfellows, and from the church to the grave by the Foresters.

Probate was granted 23 Oct 1912 to Emma his widow and Henry Englebert Hake, Gentleman. Effects £1781 4s 3d, Resworn £1644 8s 6d.

REFERENCES
National Record Office - Official birth, marriage and death certificates
UK Census Records
Warwickshire Parish Records
Trade & Town Directories - Kelly's, Spennell's
British Newspaper Archives
England Wales National Probate Calendar (Index of Wills and Administrations 1861-1941