William &nbsp and &nbsp Catherine &nbsp SQUIRES
WILLIAM & CATHERINE'S FAMILY
On 4 February 1806, William married the widow
Catherine JEFFCOAT (nee TAYLOR) at St. James, Old Milverton.

Transcription
William and Catherine had four children:
Elizabeth &nbsp&nbsp(1807)&nbsp&nbsp&nbsp Jane &nbsp&nbsp(1808)&nbsp&nbsp&nbsp Samuel &nbsp&nbsp(1810)&nbsp&nbsp&nbsp James &nbsp&nbsp(1814)&nbsp&nbsp
ELIZABETH &nbsp (1807 - 1855)
William and Catherine's first child was a daughter Elizabeth christened 10 May 1807 in St. James, Old Milverton.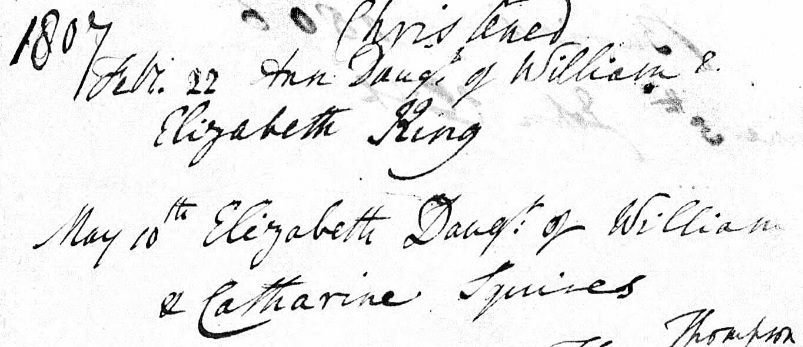 She married Edwin WOODHOUSE from Bedworth, a local draper, on 27 March 1826 in Leamington Parish Church, but there appears to have been no children.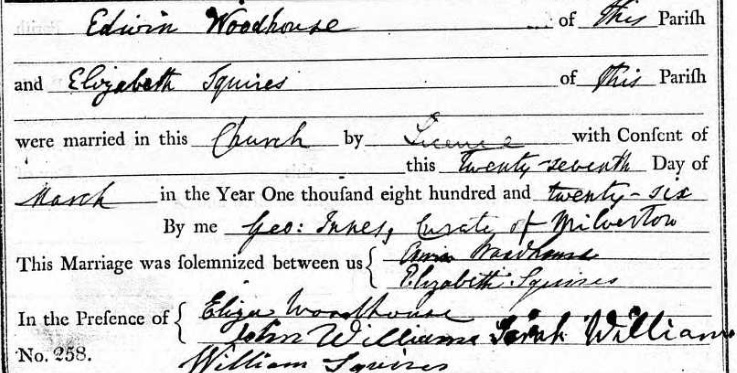 Transcription
Elizabeth died at a relatively young age in 1855 aged 47 and is buried at Milverton.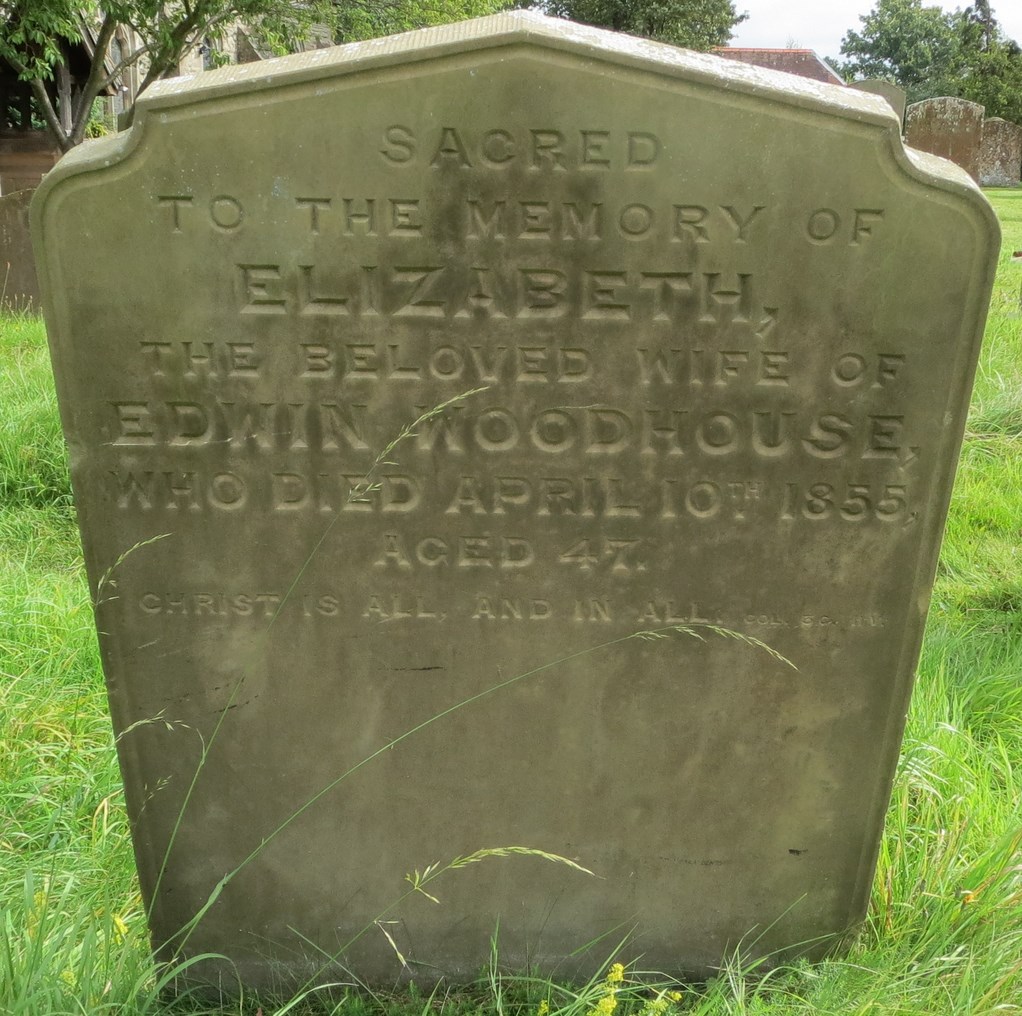 Edwin then moved down to Sussex where he died in Eastbourne in 1866 - his death being reported in the Leamington Spa Courier. Edwin's estate showed recorded Effects of £600, the sole executor being his brother William WOODHOUSE.
JANE &nbsp (1808 - 1822)
Jane, their second daughter, was christened on 28 August 1808

Sadly, Jane had a very short life, living only to the age of 13.
She died within days of her mother Catherine in May 1822, both events of which were reported in the local paper - The Warwick & Warwickshire General Advertiser.
Jane was buried at St. James, Old Milverton on 22 May, five days after her mother.
SAMUEL &nbsp (1810 - 1874)
Their third child was to be their first son Samuel born in November 1810.
He married Bets(e)y WASHBROOK of Warmington at St. James, Old Milverton on 20 September 1836.
They had two sons born at Guy's Cliffe, William in 1839 and Thomas in 1841 who was deaf and blind.
Samuel died in December 1874 and was buried at St. James, Old Milverton together, eventually, with his wife and son Thomas.
Probate records record Effects of under £1,500, the Executors being Bets(e)y and his brother James.

Bets(e)y lived to a ripe old age of 89 leaving Effects to the value of almost £900.
For more information about Samuel .. please read on
JAMES &nbsp(1814 - 1886)
James, from whose line we descend, was the youngest child, baptised at St. James, Old Milverton on 13 April 1814.
He married Charlotte Foden BALDOCK from Sibson, Leicestershire, in Milverton, on 26 July 1838.
They had four children, the eldest being Edwin Foden born in 1841. There followed two more sons Stephen George in 1846, and James Herbert in 1863.
Sadly, as with his parents, there was tragedy in the family, with their only daughter Katherine, born in 1857, surviving only a few weeks.
James died, aged 72, in April 1886, his death being recorded in the Leamington Spa Courier in the obituaries and well as in a report from the Milverton Local Board.
His Will recorded Effects of almost £700, to his widow Charlotte, who survived for a further 12 years.
In turn, when Charlotte died on 31 December 1898, her Will left all personal and real estate, which was valued at £445, to her two sons, Edwin (Bank Agent) & Stephen (retired Bank Manager), and refers to Public Stock Funds, Government Securities, and stocks of the Bank of England, which further indicated the wealth as well as the standing of the family within the community.
For more information about James .. please read on
REFERENCES
Elizabeth
Baptism -
Ancestry.co.uk: Warwickshire, England, Baptisms Marriages and Burials, 1535-1812
Marriage -
Ancestry.co.uk: Warwickshire England, Marriages and Banns 1754-1910
Family/location/occupation-
1841/1851/1861Census for England
Burial - familysearch.org-
England, Warwickshire Parish Registers 1538-1900, Burials
Edwin's death report -
British Newspaper Archives, Leamington Spa Courier
Edwin's Probate entry -
England Wales National Probate Calendar (Index of Wills and Administrations 1861-1941
Jane
Baptism -as above
Death report -
Warwick & Warwickshire General Advertiser
Burial - as above
Samuel
Baptism - as above
Marriage -
familysearch.org: England, Warwickshire Parish Registers 1538-1900, Marriages
Family/location/occupation- 1851/1861/1871Census for England
British Newspaper Archives, Leamington Spa Courier
Juror -
Ancestry.co.uk: Warwickshire, England, Occupational & Quarter Session Records 1662-1866 - Warwickshire Jurors' Lists
Death -
Ancestry.co.uk: England & Wales, Free BMD Death Index, 1837-1915
Burial -
St. James's Church, Old Milverton, Warwickshire, Memorial Inscriptions.
Probate - Ancestry.co.uk: England & Wales National Probate Calendar (Index of Wills and Administrations) 1861-1941
The London Gazette
James
Baptism -
familysearch.org: England Births and Christenings, 1538-1975
Marriage -
Certified copy of entry of Marriage
Family/location/occupation -
1841/1851/1861/1871/1881Census for England
British Newspaper Archives, Leamington Spa Courier
Trade Directories
Pigot's Directory of Warwick 1841 White's 1850/1874 Kelly's 1880 Steven's 1880 Spennell's 1881-1885
Juror -
Ancestry.co.uk: Warwickshire, England, Occupational & Quarter Session Records 1662-1866 - Warwickshire Jurors' Lists
Death -
Certified copy of entry of Death
British Newspaper Archives, Leamington Spa Courier
Probate -
Ancestry.co.uk: England & Wales National Probate Calendar (Index of Wills and Administrations) 1861-1941