ELIZABETH&nbsp&nbsp HESOM
BIRTH & BAPTISM

Elizabeth's parents were Thomas HESOM and Elizabeth MAYO.

Elizabeth was born in 1795 and, in the same year, baptised in Willoughby, Warwickshire on 12 October.
MARRIAGE & FAMILY

Elizabeth married Matthew JEPHCOTT on 10 February 1812 in Willoughby, Warwickshire.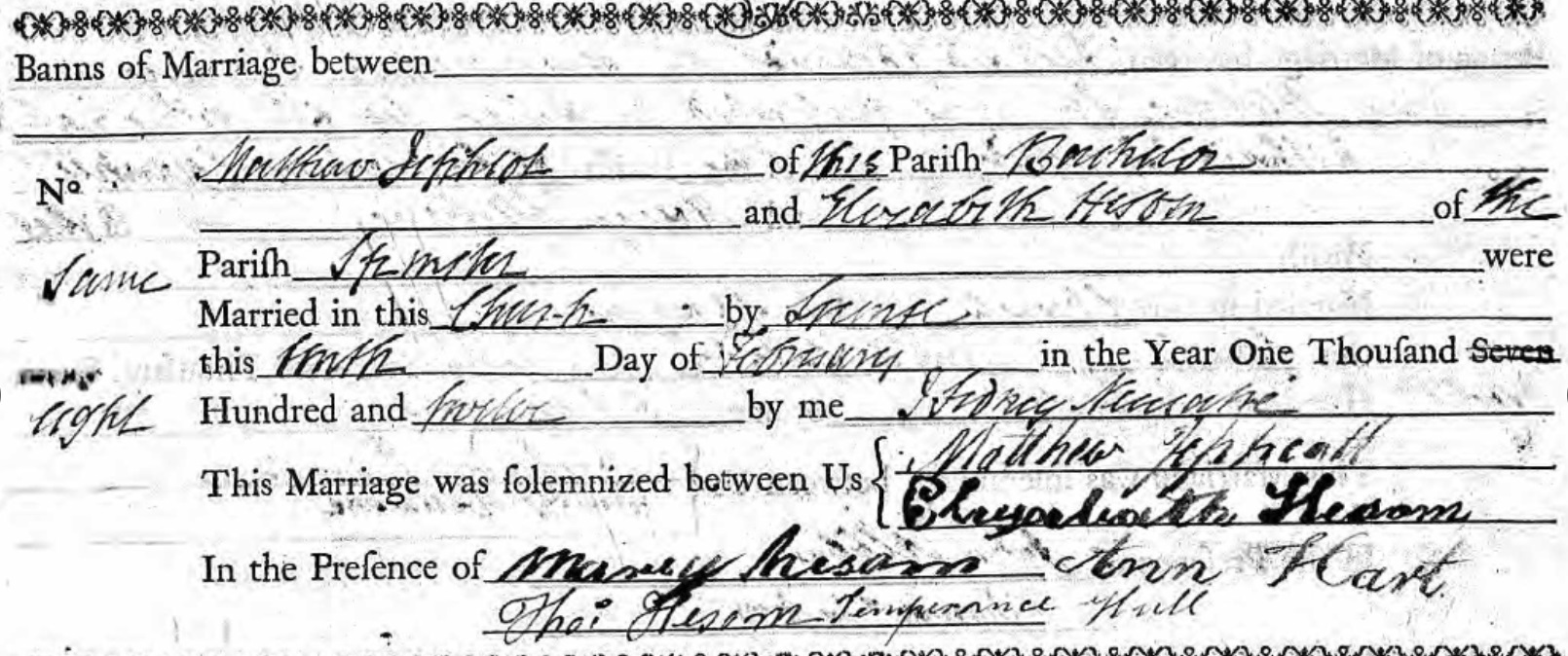 Their marriage was witnessed by Mary Hesom, Ann Hart and Thomas Hesom. (Strangely, written in a different hand after his name is "Temperance Hall").

Their daughter Sarah Ann was born in 1816 and baptised in Willoughby, Warwickshire on 26 December 1816.
They had nine other children:

Jane
1812 -
Married George MALIN
27 June 1831
Plumstead

Children:
1835 Martha
1837 Ann
1839 George
Baptism
21 December 1812
Thomas
1814 -
Married Eliza SEAMARK
19 Nov 1838
Brixworth

Children:
1842 Mary Jane

1851 Journeyman Bricklayer
Islington
Baptism
2 December 1814
Elizabeth
1818 - 59
Married Joseph ALLEN
15 May 1838
Holy Trinity, Coventry
Rail Guard

Children:
1842 Thomas
1847 Elizabeth
Baptism
9 October 1818
Mary
1820 - 87
Married Simon CHICK
12 April 1858
Aston
Coach Maker
Baptism
18 July 1820
Harriet
1823 - 75
Married Joseph PRICKARD
22 March 1840
Coventry
Butcher
Baptism
22 May 1823
Catherine
1825 -
Married William Henry HOBBINS
c1844
Coventry
Baker
Both minors, in presence of Sarah Ann Oliver
Baptism
8 May 1825
Caroline
1827 -
Living at home in 1841 with William & John
Baptism
1 July 1827
John
1829 -
Living at home in 1851 with William, and niece Jane Oliver
William
1833 -
Married Elizabeth ??

Children:
1871 Frederick
1875 Louise
1878 Carrie

Jeweller, Watchmaker & Pawnbroker,
153 Bromsgrove Street, Birmingham

Mother was living with him until he married in 1871, she then moved to Great Barr Street.

Joined a Freemasons Lodge Feb 1893 & resigned Sept 1894
WORKING LIFE



1837 Report in London Gazette
Previously taking in washing and sewing
1846 - 1851
Licensed Victualler at the Bell Inn, Warwick Lane/ Greyfriars Lane, Coventry.
Elizabeth Jephcott, landlady of the Bell public-house, Grey Friars'-Lane, appeared to answer an information, charging her with harbouring prostitutes, and otherwise keeping a disorderly house. It was stated by Police Constable Payne, that his attention having been diverted to a violent disturbance going on there, almost half past ten o'clock on Wednesday night, he and Simons entered, and found eight or nine prostitutes there, - one woman with her head bleeding profusely, the neighbourhood in uproar, and people crying out that the premises wanted burning to the ground. There was scarcely a week passed without complaints of some sort or other being made against this house.
The Defendant pleaded guilty, but in extenuation said, that a rush of company made her unable to preserve order.
Fined £2, and 11s 6d costs, with a caution as to the retention of her licence.

(Coventry Herald & Observer - Friday 23 March 1849)
Thursday December 20 (Before W Hawkes and J Ralpha, Esqrs)

Elizabeth Jephcott, landlady of the Bell public-house, Grey Friar's Lane, appeared to answer an information, charging her with having had her house open for the sale of beer on Sunday morning last, about a quarter before one o'clock. Police Constable Coltman stated, that he and Policeman Iliff were on duty in the lane above stated, when he saw a prostitute passing from defendant's house into a brothel close by, into which he entered, and saw five men and two females drinking. He then went into the Bell, and asked Mrs Jephcott what she could think of drawing beer at that time; and her reply was, that it was only a small-beer or half-and-half, which she had let them have for their supper. She now expressed regret at having done so, and begged for leniency
Fined 10s, and costs, 12s 6d.

(Coventry Herald & Observer - Friday 21 December 1849)
1841 CENSUS

By the time of the 1841 Census, Elizabeth and Matthew were living in "New Buildings", in the parish of Holy Trinity, Coventry with their children Caroline, John and William.

Matthew is described as a publican.

"New Buildings" was a short road just off Trinity Street and it is likely that the pub, possibly "The Cross Keys", was there, although it is not identified as such on the 1841 Census.
1851 CENSUS

By 1851 Elizabeth was living in Warwick Lane, Coventry at the Bell Inn but Matthew had died in 1846.

William and John, her sons, were living with Elizabeth together with Jane OLIVER her granddaughter.

Elizabeth is now a Licensed Victualer at the Bell Inn, opposite to Ford's Hospital.
1871 CENSUS

By 1871 Elizabeth, aged 75 years, was living at 153 Bromsgrove Street, Birmingham with her son William, aged 37 years, who is described as a Watchmaker/ Jeweller.


DEATH & BURIAL
Elizabeth died on 9 June 1875 at 32 Great Barr Street, Birmingham and is buried in Witton Cemetery, Birmingham. Cause of death was reported as Bronchitis.
REFERENCES
UK Censuses (Ancestry .co.uk)
Warwickshire, England Burials 1813-1910 (Ancestry .co.uk)
Warwickshire England Baptisms 1813-1910 (Ancestry .co.uk)
England, Births & Christenings 1538-1975 (Ancestry .co.uk)
IGI www.familyseach.org
England Select Marriages 1538-1973 (Ancestry .co.uk)
London Gazette (1837 Volume 1, Part 1)