SARAH&nbsp ANN&nbsp&nbsp JEPHCOTT
BIRTH & BAPTISM

Sarah's parents were Matthew JEPHCOTT and Elizabeth HESOM, and she was born in 1816 and baptised the same year in Willoughby, Warwickshire on 26 December.

MARRIAGE & FAMILY

Sarah Ann married John OLIVER on 23 April 1833 in Willoughby, Warwickshire.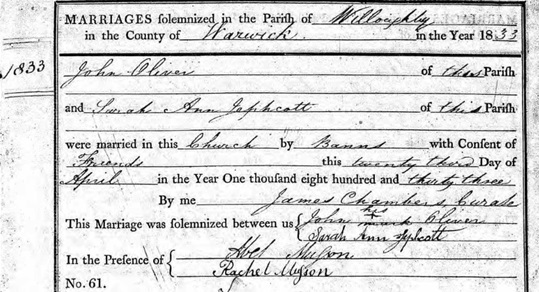 Their daughter Jane was born in 1835 in Blaby, Warwickshire.

They had two other children:
c 1833 Emma
c 1838 Mary Ann (married Frederick Tibbs 1 May 1858 in Coventry)
c 1840 Charlotte
1841 CENSUS

By the time of the 1841 Census,

(Sarah) Ann and John were living in Gosford Street, Coventry with their four daughters,

Elizabeth (born 1833, Willoughby),
Jane (born 1835, Barby),
Mary Ann (born June Qtr 1838, Barby)
Catherine (born 1840, Coventry).
John is described as a labourer.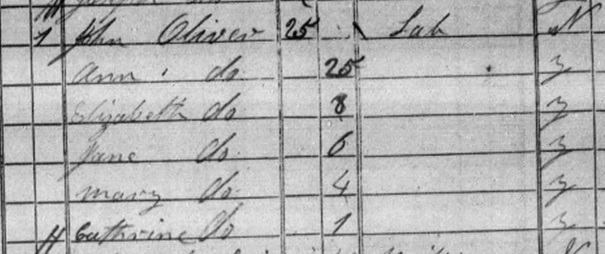 1851 CENSUS

The family were still living in Gosford Street, Coventry in 1851 but John is not recorded at home.

Sarah Ann is a Laundress, Emma is a Filler Silk, and both Mary and Charlotte are Nurse Servants.


Jane was not recorded with the family. She is instead to be found at the Bell Inn, Warwick Lane, Coventry staying with her grandmother Elizabeth Jephcott.

If she was living there then perhaps that is where she met her future husband, Richard as he was living in St Johns Street, a "stones throw" away!
1861 CENSUS

Sarah Ann is living alone in Court 43, House 6, Gosford Street Coventry. She is still recorded as a laundress.

Jane is living with her husband Richard, a silk weaver, and four children at Whitley Common, Coventry.
1871 ONWARDS

Sarah Ann is recorded on the 1871 Census as living with her married daughter Mary, at 50 Cox Street, Coventry. Mary was married to Frederick Tibbs.

Jane and Richard have not been found on the 1871 Census.

Sarah Ann died in May 1878 at home in Cox Street in Coventry and was buried 21st May 1878 in the London Road Cemetery.
REFERENCES
UK Censuses (Ancestry .co.uk)
Warwickshire, England Burials 1813-1910 (Ancestry .co.uk)
Warwickshire England Baptisms 1813-1910 (Ancestry .co.uk)
England, Births & Christenings 1538-1975 (Ancestry .co.uk)
IGI www.familyseach.org
England Select Marriages 1538-1973 (Ancestry .co.uk)