MARY FODEN
BIRTH & BAPTISM

Mary FODEN was born around 1791 in Lea Marston, Warwickshire and baptised in Kingsbury on 27 November 1791. Her parents were recorded as George and Hannah FODEN. This isn't obvious from Mary's christening record as it appears that due to the lack of ability to read and write their names were written as they sounded.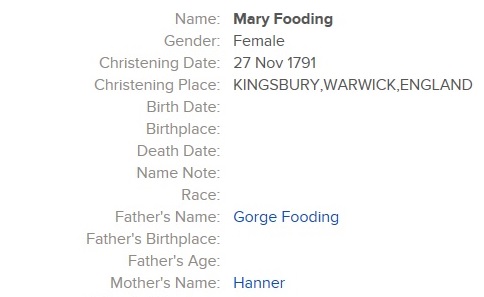 MARRIAGE & FAMILY

Mary married Charles BALDOCK on 25 July 1814 at St. Botolph in Sibson, Leicestershire and they had five children. Charles died in 1852, but Mary survived a further 16 years and in the 1861 Census is found living in Acocks Green with her son George and his family.
DEATH

After the death of Charles in 1858, Mary lived with her son George, a gardener, and his family in Acocks Green, Worcestershire. Mary died in 1862.

By 1871 George had moved with his family to Nether Whitacre where he farmed 13 acres.
REFERENCES
UK Censuses
Warwickshire, England Burials 1813-1910
Warwickshire Baptisms Records
England, Births & Christenings 1538-1975
IGI www.familyseach.org
National Burial Index
BMSGH Monumental Inscriptions
The National Archives
England & Wales Free BMD Death Index
England Select Marriages 1538-1973
GRO BMD certificates