EMMA BALDOCK
INTRODUCTION

Emma BALDOCK is connected to the Squires family after becoming the second wife of Edwin Foden SQUIRES after the death of his first wife Elizabeth BURTON.

Emma was also a widow after her first husband Walter PIPE died leaving her with two children. (See Ancestral Tree)

What we find interesting is that the Baldock name has re-appeared in the Squires family tree from a different direction, as Edwin's mother was Charlotte Foden BALDOCK.

Although Emma was born in Marylebone, London her father, Thomas BALDOCK, was born in Berkswell, Warwickshire and from his Marriage record we discover that Thomas' father was Joseph BALDOCK.

To date we have not found a connection between Charlotte and Emma BALDOCK but feel it highly likely considering the family connection and location.

It seems very unlikely that Edwin would marry a Baldock in London, with the Warwickshire connection, without there being a link somewhere.
EMMA

Emma Agnes BALDOCK was born on 15 February 1848 at 20 George Street, Marylebone, London and baptised at St. Marylebone, Westminster on 8 March 1848.





Emma married Walter PIPE on 10 April 1866 and they had two children, Sarah Alice and Walter Edwin Wilgress.





After Walter's death Emma married Edwin Foden SQUIRES on 3 November 1875.





Emma died on 26th October, 1924 in Southam. She is buried in the same grave as Edwin Foden.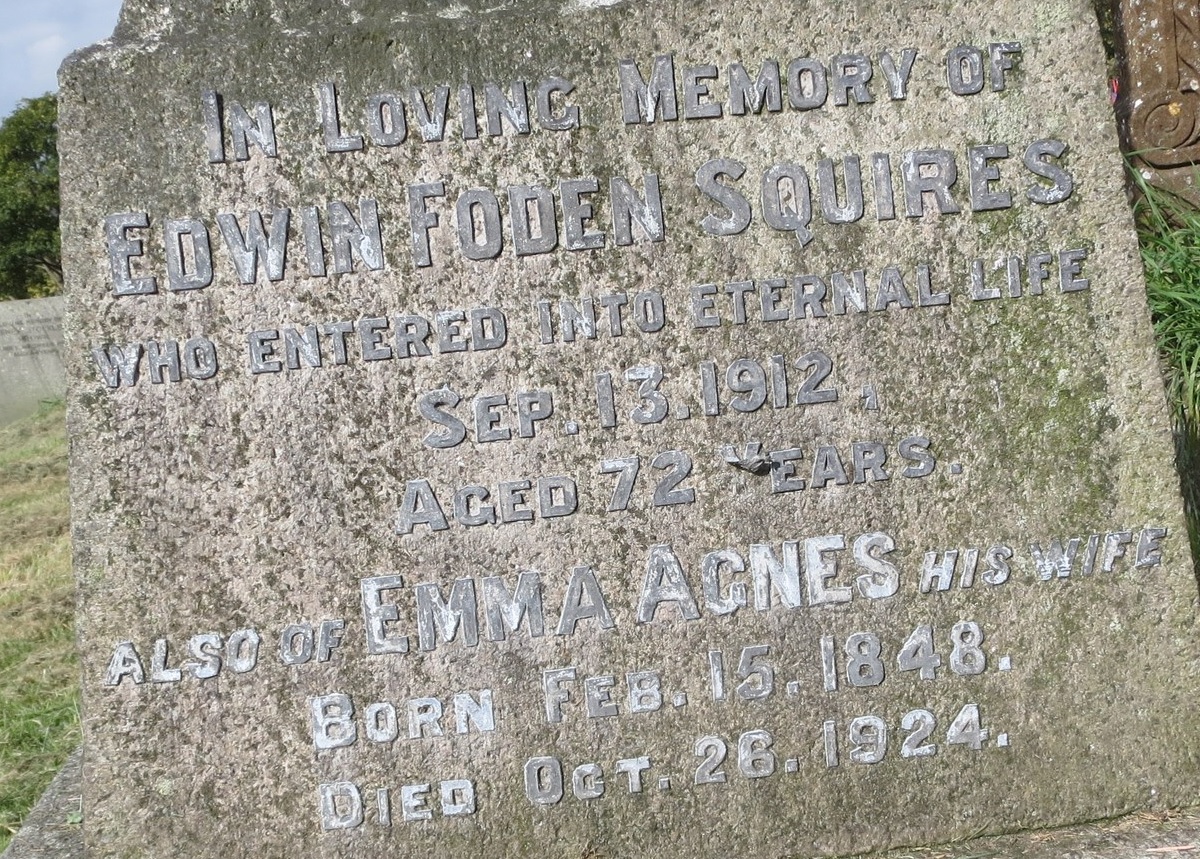 EMMA & HER ANCESTORS

Emma's baptism record confirms her parents as Thomas BALDOCK, a baker, and widow Sarah McDOUGALL (nee HACKWELL).

They were married on 14 July 1846 in St. Marylebone, Westminster. Their marriage record reveals that Thomas' father was Joseph BALDOCK, a gardener and Sarah's as Abner HACKWELL a baker.





Sadly Emma's father died in 1853 when she was only 5 years old, and her mother in 1866 just a few months after her marriage to Walter.

The 1851 Census for Marylebone records Thomas BALDOCK aged 32, a baker, living with wife Sarah and daughter Emma Agnes. The entry confirms Thomas as born around 1819 in Berkswell, Warwickshire, so we have the Warwickshire connection.

We have found a record for a Joseph BALDOCK born in Wyken, Warwickshire, in 1788. He married Hannah HANDS on 23 July 1810 in Berkswell. There are records of a Joseph & Hannah BALDOCK having at least 7 children including a Thomas baptised 25 Dec 1825.

The 1841 Census finds a Thomas BALDOCK (20), a cook, living with Joseph BALDOCK (20) a shoemaker and Lydia BALDOCK in Marylebone - Joseph and Hannah had a son Joseph baptised in 1819, could this be Thomas and his brother?

Thomas died in 1853 and the burial record for St. Marylebone, Westminster confirms his age as 34, and so together with Census records suggests that Thomas was born around 1819 but possibly not baptised until 25 December 1825.



REFERENCES
London, England, Marriages & Banns, 1754-1921, London Metropolitan Archives, Saint Marylebone, Register of marriages, P89/MRY1, Item 218
1851 Census for 2 England, Registration District: Marylebone. Piece 1486; Folio 293;
England & Wales National Probate Calendar (Index of Wills and Administrations) 1861-1941
England & Wales, FreeBMD Birth Index, 1837-1915
London, England, Births & Baptisms, 1813-1906, London Metropolitan Archives, All Souls, Langham Place, Register of baptisms, P89/ALS, Item 030
London, England, Non-conformist Registers 1694-1921, Source Citation: London Metropolitan Archives, Whitefield's Memorial Church [Formerly Tottenham Court Road Chapel], Tottenham Court Road, Saint Pancras, Church records book: baptisms 1865 Jan - 1879 Jul, marriages 1866 Jun - 1882 Dec., LMA/4472/A/01/002, LMA/4472/A/01/002
Certified copy of an entry of Marriage
IGI